Peace, Love And Truth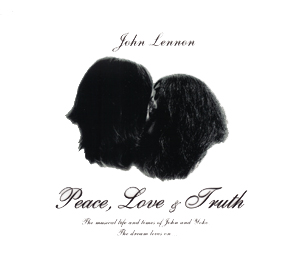 Notes
Although the release date stated is August 15, but most of the South East Asia countries released this album prior to that release date. In Hong Kong, the release date was August 4.
Some of the songs on the album was stated as "remix" on the tracklist in the booklet and back of the record, they are simply re-mastered songs in the re-issue albums.
Here is the liner notes from the album booklet.
Give Peace A Chance (remix 2005 featuring the voices of Asia)
This unique remix/collaboration brings together the original vocals of John plus the added voices of some of Asia's best known singers. Recorded, literally, all around the world, this new version of Give Peace A Chance stays true to John's original musical anthem for peace.
Gimme Some Truth
A biting plea by John for some straight talking. This track, which is taken from the "Imagine" album was recorded at Ascot Sound Studios in England and was first released in 1971. John is accompanied by George Harrison on lead guitar, Klaus Voorman on bass, Alan white on drums, Rod Linton and Andy on acoustic guitars and Nicky Hopkins on piano.
Love
This gentle ballad was taken from John's debut solo album "John Lennon/Plastic Ono Band" which was recorded at EMI Studios, Abbey Road, London and released in 1970. Phil Spector plays piano.
Hold On
Here is another simple but beautiful ballad taken from the album "John Lennon/Plastic Ono Band".
Give Peace A Chance (Y2K+)
A dream you dream alone is only a dream. A dream you dream together is reality.
Imagine
John's universal anthem for peace was recorded at Ascot Sound Studios in England in 1971 with strings being added in New York City later that year. The words are possibly even more meaningful now than when the song was first recorded.
Bring On The Lucie (Freeda People)
A plea for freedom is contained in this great up-tempo track recorded in 1973 in New York City and released on the "Mind Games" album.
Mind Games
This was the title track of John's album, which was also released as a single in 1973. During the fade at the end of the song John can be heard singing "I want you to make love not war" a reference to the song's working title.
I Don't Wanna Be A Soldier
Taken from the "Imagine" album, this blistering track contributions from King Curtis (sax), Nicky Hopkins (piano), George Harrison (slide guitar), Klaus Voormann (bass), Jim Gordon (drums) and many others.
Instant Karma! (We All Shine On)
The third single from The Plastic Ono Band was written and recorded in early 1970 and rush-released in a matter of weeks. Produced by Phil Spector. Another hit.
Power To The People
This early 1971 recording was originally a non-LP single hit but it is now included as a bonus track on the "John Lennon/Plastic Ono Band" album.
Real Love (Wonsaponatime version)
John was a prolific songwriter and prepared cassette demos for many of his compositions. This home recording from 1980 not only appeared on "The Lennon Anthology" but it also forumed the basis of the Beatles recording which was released as a single in 1996.
Help Me To Help Myself (demo, with speech removed)
Here is another piano and vocal demo by John again from 1980. This recording was not commercially released until 2000 when it was added as a bonus cut to the "Double Fantasy" re-mastered reissue.
I Don't Wanna Face It
This great up-tempo track was recorded during sessions just prior to John's death in 1980. Yoko completed the work on this and the rest of the "Milk And Honey" album which was eventually released in early 1984.
Bless You
A mellow, laid-back, beautiful ballad taken from the "Walls And Bridges" album which was recorded in New York in 1974.
Happy Xmas (War Is Over)
John & Yoko's seasonal anthem first appeared in the U.S. in 1971 and in most other places the following Christmas. The lyrics maintain the true spirit of Christmas by encouraging the listener to think of others who may be less fortunate. It was recorded in New York and features the Harlem Community Choir.
Listen The Snow Is Falling
The B side of "Happy Xmas" features a song written and performed by Yoko, with John adding some nice guitar. Like the "A" side the disc was produced by John & Yoko and Phil Spector.
Give Peace A Chance
Despite being recorded in a hotel room (suite 1742 to be precise) in the Hotel La Reine Elisabeth in Montreal, Canada in 1969, "Give Peace A Chance" went on to be one of the most important peace songs ever written. Even after 36 years its simple message is still so relevant.
Release date
August 15, 2005
Label / Catalog number / Format
EMI SE Asia 3325092
Tracklisting
Give Peace A Chance (remix 2005 featuring the voices of Asia)
Gimme Some Truth
Love
Hold On
Give Peace A Chance (Y2K+) *
Imagine
Bring On The Lucie (Freeda People)
Mind Games
I Don't Wanna Be A Soldier
Instant Karma! (We All Shine On)
Power To The People
Real Love (Wonsaponatime version)
Help Me To Help Myself (demo, with speech removed)
I Don't Wanna Face It
Bless You
Happy Xmas (War Is Over)
Listen The Snow Is Falling *
Give Peace A Chance

* performed by Yoko Ono